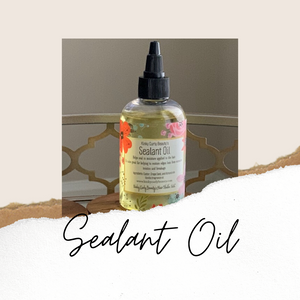 Because of the castor oil in this product, the consistency is thicker than the conditioning oil.
The sealant oil does just what it states...it seals in the moisture applied to the hair.  It's also great when added to deep conditioners because of its ability to seal in the moisture of the treatment.
After your shampoo and conditioning process, this sealant oil works perfect as the first step to locking the moisture into the hair strands.
This oil also works amazingly to repair hair loss caused by excessive dryness that causes breakage, breakage from taunt hair styling, and from wearing tight extensions that causes breakage.
Kinky Curly Beauty's oils are NOT DILUTED. with filler (cheap) oils.  What you see is what you get
Ingredients:

Castor Oil
Grapeseed Oil
Almond Oil
Fragrance Oil