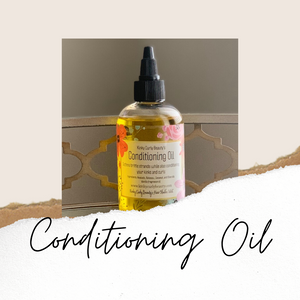 This oil is a very light oil that softens and adds sheen to your hair. When incorporated with a moisturizing cream it also assists with length retention as well as promoting growth.
Men, are you searching for an oil that will help fill in those gaps in your facial hair? The conditioning oil works perfectly with eliminating that dull, dry look of your beard.  It offers the sheen you need while also assisting in the growth needed to fill on those empty spaces in your mustache and beard. 
Kinky Curly Beauty's oils are NOT DILUTED with filler (cheap) oils.  What you see is what you get!
Ingredients:
Coconut Oil
Avocado Oil
Extra Virgin Olive Oil
Babassu Oil